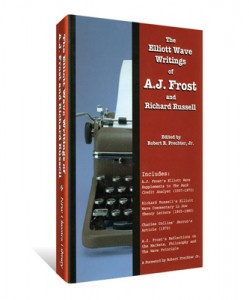 The Elliott Wave Writings of A.J. Frost and Richard Russell
Edited by Robert R. Prechter, Jr.
A.J. Frost was A. Hamilton Bolton's successor as the reigning dean of the Wave Principle. Everything he ever published on the subject is in this book. Every word Russell wrote about the Wave Principle is here, too, including one of the greatest market calls of all time.
Hardback: 422 pages | Published: 1997 (New Classics Library) | ISBN: 978-0932750471
Orders fulfilled by elliottwave.com
To inquire about discounts and bulk orders, use our contact form here.