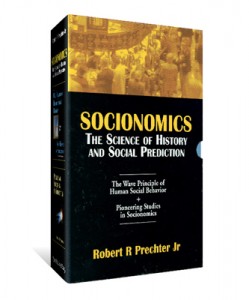 Socionomics: The Science of History and Social Prediction
by Robert R. Prechter, Jr.
This revolutionary two-book set in which Robert Prechter introduces his new theory of socionomics spells out a historical correlation between patterned shifts in social mood and their most sensitive register, the stock market. It also presents engaging essays – representing more than 20 years worth of research – correlating social mood trends to music, sports, corporate culture, peace, war and macroeconomic trends.
Hardback: Book 1: 486 pages; Book 2: 463 pages | Published: 2003 (New Classics Library) | ISBN: 978-0932750570
Orders fulfilled by elliottwave.com
To inquire about discounts and bulk orders, use our contact form here.