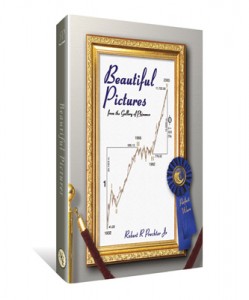 Beautiful Pictures from the Gallery of Phinance
by Robert R. Prechter, Jr.
In Beautiful Pictures, Robert Prechter exposes a web of instances in which major waves in the stock market during the 20th century are in Fibonacci proportion to each other in time and/or price. Described by Prechter as the "coolest book" he's ever written, the large 8 1/2 X 11 pages allow you to see every chart and graph in exquisite detail.
Hardback: 221 pages | Published: 2003 (New Classics Library) | ISBN: 978-0932750600
Orders fulfilled by elliottwave.com
To inquire about discounts and bulk orders, use our contact form here.