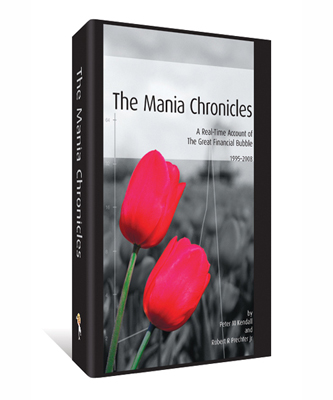 The Mania Chronicles: A Real-Time Account of the Great Financial Bubble
by Robert R Prechter, Jr., Peter Kendall
With 700 pages and a large, 8-1/2 x 11-inch format, The Mania Chronicles is only a "book" in name. In fact, it's an encyclopedic reference that covers every twist and turn of the rise and (initial) fall of the historic financial bubble – all observed and anticipated in real time via monthly analysis from the renowned technical analysts at Elliott Wave International.
Hardback: 700 pages | Published: 2009 (New Classics Library) | ISBN: 978-0932750594
Orders fulfilled by elliottwave.com
To inquire about discounts and bulk orders, use our contact form here.